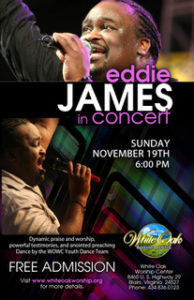 EDDIE JAMES in CONCERT

Eddie James is a worship artist, preacher, and the founder of Eddie James Ministries and Dreamlife. He also is the founder of Fresh Wine Records, Fresh Wine Publishing, and Fresh Wine Productions. His ministry headquarters is locat­ed in Cleveland, TN with ministry centers in Georgia and Florida. His ministries works with several detox centers in Ken­tucky.. He is an internationally renowned worship artist, which enables him to release his sound of wor­ship to many of the world's most impactful ministries.
Join us on Sunday, November 19th at 6:00 PM. Admission is FREE. A love offering will be received.
WOMEN of WORTH HOLIDAY GALA
Attention Ladies: Don't miss our 2017 HOLIDAY GALA. This event is a fantastic time to come together for uplifting fellowship, great food, and a few surprises as well. Join us on November 18th from 11:30 AM – 2:30 PM at the Institute for Advance Learning and Research, 150 Slayton Lane in Danville.
Tickets are $12 per person . For more information contact Terri Johnson at terri@whiteoakworship.org.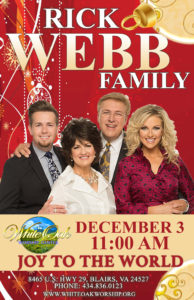 RICK WEBB FAMILY
For 34 Years Rick and Phyllis Webb have ministered through music evangelism to nearly 3 Million people worldwide logging over 2 Million miles, and witnessing nearly 10 thousand people make public decisions for salvation through Jesus Christ, during their concerts. The Rick Webb Family has ministered at White Oak several time over the years and we are delighted to have them this year to celebrate the birth of Jesus!
Join us on Sunday, December 3rd at 11:00 AM.
AND THEN THERE WERE 12 / Dramatic Presentation
This powerful dramatic presentation takes each spectator face to face with the ones that walked with Christ and then reminds us of our call to Change the World through the power of the Gospel.
Don't miss your opportunity to witness this one of a kind theatrical performance.
DECEMBER 8TH @ 7:00 PM .
DECEMBER 9TH @ 12:00 PM .
DECEMBER 9TH @ 7:00 PM .
DECEMBER 10TH @ 7:00 PM .
Only $5.00 per person. Tickets can be purchased online or by calling i-tickets at: